Rush Sigma Chi
Why Join Sigma Chi?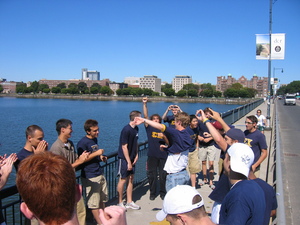 Pledging Sigma Chi might very well be the best decision you make during your college years. You will experience deep, lifelong friendships only made possible by the strength of our brotherhood.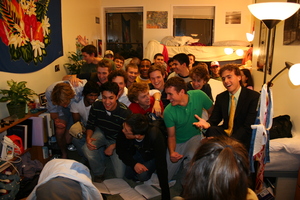 Our forty-plus diverse brothers get the most out of life by playing and working together. Whether dominating on the soccer field or helping others to study, we Sigma Chi's are always ready to help a brother with whatever he is doing.
We are looking for well-rounded, enthusiastic, and solid individuals like yourself to be an integral part of our brotherhood and to share the great Sigma Chi experience. Stop by our house anytime to meet your future brothers!
Schedule of Events
This September, we will be running many rush events for you to get a chance to meet us and learn more about pledging Sigma Chi. Here is our updated schedule:
Saturday, August 30, 2014
12 PM
Greek Griller
MIT's Official Rush Kickoff
12:15 PM
Exotic Meats BBQ and House Tours
Kangaroo, Alligator, and more
10 PM
Sigma Chi-Liter Party
White Tees and HiLiters Provided
Sunday, August 31, 2014
9:30 AM
Breakfast at the house
Have breakfast at the house before heading to the beach
10 AM
Beach Trip
A relaxing day of sun, sports, and waves
12 PM
House Tours
Get a tour of our just renovated house
Monday, September 1, 2014
7 PM
Bowling at King's
A fun and relaxing night in Boston
Tuesday, September 2, 2014
11 AM
Mini Golf at Route One
Have fun playing some putt-putt and hanging out with the brothers
5 PM
Dodgeball
Come play dodgeball with the brothers at the MAC courts
Wednesday, September 3, 2014
7:30 PM
House Dinner
Cooked by our House Chef
10 PM
Tea
Our Weekly House Party
Also, if you find yourself near Lobdell dining hall during lunch, stop by our table to meet the brothers.
Contact our Recruitment Chairman, Cam Korb