Tour of 532 Beacon Street
First Floor
The Carlisle Music Room
The Music Room provides a central gathering spot--complete with a baby grand piano, drum set, TV, and furniture to support both casual gatherings and studying. One of the most interesting things about the house's history is the legacy of the pipe organ. When the chapter purchased the house it was complete with pipe organ on the first floor, unique in the fraternity world. Alden "Bat" Thresher, class of 1918, even described it as "a rushing asset." Due to issues with mice eating the bellows, it was removed in the late 1930's and replaced by a telephone booth during a wartime scrap drive. The chapter was compensated a mere $40 for its removal. While many brothers in the house are capable of playing an instrument, some have made use of this room to learn something new.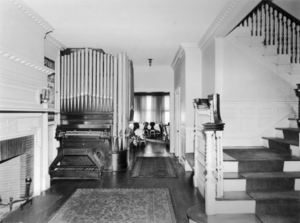 The Killian Memorial Dining Room
Brothers are no longer required to wear coat and tie to dinner, but still share the same camaraderie in the spirit of Alpha Theta. Dinner is served on weekdays, catered Mondays through Thursdays and cooked by brothers on Friday nights. In 1919 the Metropolitan's great Wagnerian contralto, Madame Ernestine Schumann-Heink, gave an a capella performance at dinner when she visited her son Henry Heink, class of 1910.
As the house was originally intended as a gift for Thomas Lamont, a recent graduate of Harvard Law School, the stained glass window was apty inscribed with "And do as adversaries do in law, Strive mightily, but eat and drink as friends" (Shakespeare Taming of the Shrew I. ii. 273). Upon the breast of the man in the glass, although not visible in the photograph, glitters the Sigma Chi Badge and Alpha Theta Guard. Since the Alpha Theta Chapter was established under the Gamma chapter at Ohio-Wesleyan, brothers traditionally tilt their badges in toward the right instead of out toward the left--hence, the Gamma tilt.