Alpha Theta Sigma Chi
The Oldest Continuous Fraternity at MIT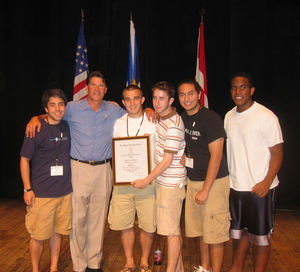 Besides being one of the largest international fraternities in North America, Sigma Chi has had a long history of excellence at MIT that began in 1882. Founded in 1882, the Alpha Theta chapter is the oldest continuous Fraternity at MIT with one of the oldest houses as well (some organizations, such as MIT Libraries, simply cite us as the first MIT fraternity). With nearly 125 pledge classes that have gone through Alpha Theta, our alumni are found in all parts of the world and still enjoy coming back to the house for some of our house's events such as our annual Alumni Day.
A brief history of MIT fraternities, penned by the former secretary of the MIT alumni association, the late Richard A. Knight MIT '47, can be found here.
A History of Alpha Theta Sigma Chi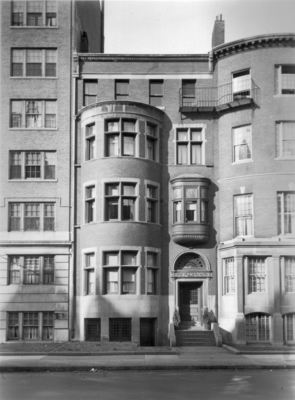 The Massachusetts Institute of Technology was originally conceived to fill the need for a technical school with status equal to a liberal arts college. However, like all technical institutions of the day, MIT drew almost all of its students from local communities, rather than from a regional or national area. As a result, no effort was made to house the students.
Times were changing however, and soon Boston Tech, then located at Boylston and Berkeley Streets, became nationally known. Students came from all sections of the country, but MIT still did not consider student welfare its responsibility.
Such a situation led to the development of fraternities. After an unsuccessful attempt to establish a local fraternity at MIT in the fall of 1881, two of the originators met some members of the Omega chapter of Sigma Chi at a football game over Thanksgiving, and discussed fraternities with them. The result was that on March 21, 1882, Orlo D. Skinner and William B. Meyers, of Phi chapter, Lafayette, installed the first permanent fraternity on the MIT campus. It was the first Sigma Chi chapter in New England, and the forty fourth of the present International Fraternity. The ten founders, in order of initiation, were:
The first meetings were held in the rooms of the members but in November of 1882 they changed to Berkeley Hall. In 1886 they leased a suite of apartments near the Institute. 1887 saw a move to Oxford Terrace; 1888, the Hotel Clifton. In 1890, Sigma Chi moved to an apartment on Huntington Avenue. In 1902, they moved to 1067 Beacon Street, Brookline.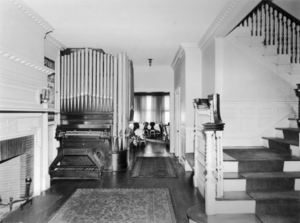 When the United States entered the First World War, the fraternity house closed down, all students having been drafted, and then sent back to school in uniform. A few weeks after the Armistice, the brothers reassembled and rented rooms in the old Fritz-Carleton Hotel on Boylston Street. This location was unsatisfactory, but soon a house was found which had been unoccupied for years. It was located at 532 Beacon Street.
On January 1, 1919, Sigma Chi leased 532 Beacon St. from the heirs of Francis W. Kittredge, a prominent Boston lawyer and politician, for whom the house was originally built. On May 1, 1924, the chapter purchased the house for $40,000 (a shade under $520,000 in 2006 dollars) -- they had raised $28,000 from alumni over the last 15 years, and took out a loan to pay the rest. The three original house Trustees were Dr. Henry M. Chase, George M. Angier, and John Bruce McPherson. The house was complete with pipe organ, and was unique in the fraternity world until its removal in the late 1930's in the World War II scrap drives. The famed opera star, Madame Ernestine Schumann-Heink, once sang in the house when she visited her son Henry Heink, class of 1910. Numerous others among the near-great have tread the halls of 532 Beacon.
More importantly, however, than any of these details of our chapter's development are the achievements of our alumni. Apart from those names we know so well, there have been literally scores of Alpha Theta Sigs who have contributed mightily to their field, and to the community as a whole. We should not however feel that this imparts a benediction upon us. Rather we should realize that this obligates us to live to the fullest of our abilities. Some of these alumni include:
"He [Bob Swanson] started at MIT in 1965 [...]. He was a sociable and generous young man and fitted in well with the Sigma Chi fraternity; he credits his frat brothers with helping him pass his exams. 'I learned not to be afraid of science or very complex problems. Probably the two most important things that came out of those early years were tackle things one at a time and manage your time.' He ended his fourth year with all A's and a prize in chemistry."
- Harold Evans, They Made America
Supplementary Documents
Beaver Sigs, Annuals